The fully renovated, historic Lincoln Theatre is a multi-use, state-of-the-art performing arts center designed to engage, educate, and entertain the community. With a capacity of 588 seats, the Lincoln Theatre is an intimate venue
perfect for any event

. Since its reopening in May 2009, the stage of the Lincoln has been host to musical performances, corporate meetings, stage plays, movie screenings, weddings and cocktail receptions.
Proscenium Height – 3 levels – 15', 17'6", 20'
Proscenium Width – 38'8"
Plaster Line to back wall – 18'2"
Front of stage to back wall – 38'9"
Orchestra pit to back wall – 33'2"
Orchestra pit depth at center – 5'7"
Stage Left wing space (from proscenium to side wall) – 23' 9"
Stage Right wing space(from proscenium to side wall) – 10'5" and 7'8"
Stage Height from audience – 3'8"
Grid Height – 46'3"
Stage left Flyrail – 13'2" CLEARANCE
Stage left and right Alcove height 6'2"
Loading dock door – 7'- 7" Wide by 12' High
Door to stage – 8'10"" Wide By 13'10' High
Front of stage to FOH – 50'3"
Orchestra pit at Center to back wall – 18'3"
Orchestra pit at widest point – 31'
Height – 7'4"
Height at opening – 8'8"
The Orchestra pit is held up by 4 sections of scaffolding. It can be at stage level or at pit level.
Black Marley is available for rent. Covers whole stage area.
We have 8 4x8ft Versilite Risers with legs from 8-32 inches.
ONSTAGE POWER
(2) 60amp Company Switch 3 Phase, 5 wire (only use 1 at a time)
(6) Standard Edison Audio Only Curcuits
(3) Standard Edison Curcuits
OFFSTAGE POWER
(1) 200amp Company Swtich 3 Phase, 5 wire
(1) 100amp Company Switch 3 Phase, 5 wire
DIMMERS
(240) ETC Sensor+ Dimmer channels at 2.4kW per dimmer
(2) SR48+ Dimmer rack model, (1) SR24+ Dimmer rack model
(17) Dimmers are used for house/work lights
(8) Dimmers are used for hot power to electrics, twist lock connectors
DIMMER/RELAY CONTROL
Control protocol is available on Streaming ACN (sACN) compliant Ethernet, available at all areas of stage and control positions. Standard 5-pin DMX control connection is available via ETC Net3 2-port Portable Network Nodes.
HOUSE LIGHTS
Control is available through touch screen preset panels, or via DMX Universe 1. An installed touch panel is available stage Left, FOH mix position. Touch panel has presets for House Full, Half, and Off, as well as individual zone controls for Work and Running Lights.
CONSOLE
ETC Ion, with fader wing (mounted left of main controller), Dual LCD monitors, mouse and keyboard. Console is connected via sACN network and has two DMX 5-pin out ports available. Console is configured on a mobile workstation, and may be placed at any FOH or stage position that has available network input.
INVENTORY:
CIRCUIT/DIMMER LAYOUT
FOH 1
FOH 2
FOH 3
1st Electric
2nd Electric
3rd Electric
House Left Torum
House Right Torum
LIGHTING INVENTORY IN REP PLOT
(21) Etc lustr series 2
(12) Altman Spectra par 100
(12) Source 4 PAR
(16) Source 4 jr zoom
(2) Source 4 zoom 25-50˚
(10) Source 4 19˚ Specials
(4) Chauvet Slim PAR 64
(4) Altman Spectra cyc
(2) Spotlight Canto 575 msd/msr
*Conventional Fixtures run at 575w
LIGHTING ACCESSORIES
(7) Top Hats
(1) Chauvet opto splitter
(8) lighting base
(8) 5 Ft booms
(1) small opto splitter
(2) 4 channel dimmer pack
(4) Show babies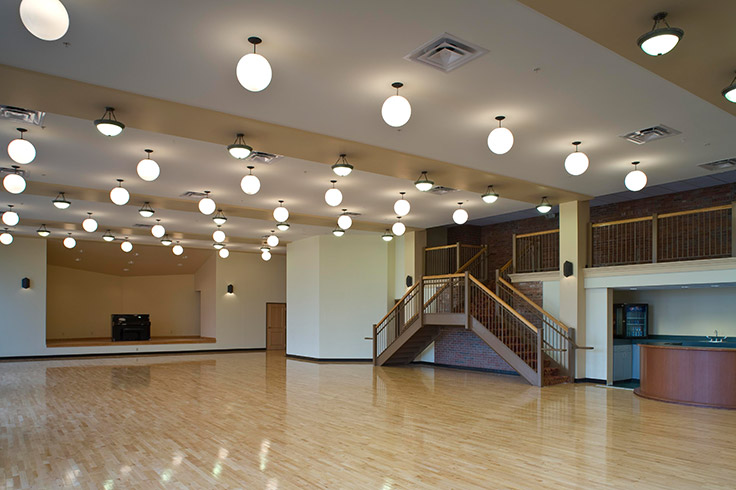 CARDINAL HEALTH BALLROOM
The restored Cardinal Health Ballroom at the Lincoln Theatre is an elegant and chic location for any event. The ballroom features seating for up to 200 guests, a built in bar, big windows, a small stage and sprung-wood dance floors. The ivory walls and pine floors provide a neutral backdrop. Complimentary use of the digital marquee is available pending availability.
Floor Level: 35′ width, 80′ length (does not include stage dimensions)
Mezzanine: 7'2″ height, 10′ width, 64′ length
$1,250 for five hours. Each additional hour is $125. Discounted rates may be available for early load-ins. Wedding package rates are also available.
200 chairs, twenty 72" round tables and a dozen 6' banquet tables are available for rent in the Cardinal Health Ballroom at a rate of $5 per table and $0.50 per chair.
Any licensed caterer is welcome in our facilities and we do not charge a facility fee. All beverages must be provided by CAPA.